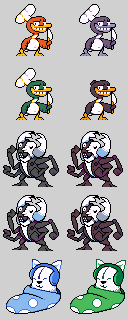 Oh shit, this is my first art portal upload of 2021 isn't it? Well, these guys are actually pretty old. They were supposed to be for a community-run fakemon hack but at some point the project got cancelled. Oh well. Hopefully my sprites haven't been re-uploaded without my knowledge!
Also I drew TerrorByte the other day.

EDIT: Today I drew fanart of the next epic new meme: Drawing your OC with a scythe on the verge of a meltdown!